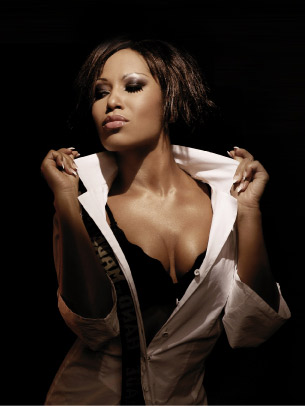 Gaitana has paved her own road and style. She avoids loud scandals and gossip and lets her art speak for itself. That is why her niche on the Ukrainian stage is so special.
In 2003 the singer with the exotic name and even more exotic voice signed with Lavina Music – the biggest and most successful label in Ukraine. Her rise on the Ukrainian stage was one of the most noticeable and talked about events of that year, charming critics and audiences alike with her versatile Afro-Ukrainian voice and graceful mastery of the stage. Several of her songs became smash hits.Eclecticism in music combined with honest and heartfelt lyrics made Gaitana one of the brightest and most successful Ukrainian artists.
In 2006 her single, "Dva vikna," was released in both English and Ukrainian to great fanfare. That same year Gaitana was awarded the "Showbiz Award" for best European Star.
At the beginning of 2007 Gaitana's new single "Shaleniy" topped all national charts for 9 straight weeks, and the song's music video solidified Gaitana's status as the country's most dynamic and trailblazing artist
Later on that year, Gaitana released here second album, "Kapli Dozhdya" ("Drops of Rain") to great success. The album included several chart-topping new hits and five new music videos.
On April 2nd, 2008 the singer's third and latest album "Taynye zhelaniya" ("Secret Desires") became a revelation. The album revealed a new side of Gaitana and brought her millions of new fans, along with Ukraine's prestigious "Golden Record" award for album sales.
It should come as no surprise that Gaitana's success and undeniable talent were noticed abroad by esteemed producer Narada Michael Walden, who worked with Whitney Houston and is planning a single with Gaitana in the near future. Furthermore, the Chairman of the International project "Global One" and producer Rob Hoffman (who worked with Michael Jackson and Christina Aguilera) chose Gaitana to represent Ukraine in their celebrated multinational project, which brings together artists from all parts of the world to sing together as a force for peace and unity in troubled times.
In October 2008 she was awarded the Ukrainian Music Award for "Best Female Singer of the Year" and for "Best Album of the Year" for the album "Secret Desires".
On many occasions Gaitana has been "the voice and the face" of such famous brands as Coca-Cola, Samsung, UMC, and KyivStar. By the way, the cooperation with the latter as part of the social project under the name of "Communication for the future's sake" inspired Gaitana to record an entire album of children's songs named "Kookaburra".
In the summer of 2009 as part of the international festival of commercials Gaitana became a winner in the nomination "Star in Commercials" with "Warmth of Words" video by KyivStar.
In 2010 Lavina Music presents a new Gaitana's album «Tolko Segodnya» (Only Today). In the fifth studio album.The album "Only Today" consists of 17 new songs and 19 videos . This album is not just a collection of songs of the singer, but it is also a new artist's concert program. Gaitana is more shocking, more unexpectedand and at the same time she stays so sincere and attractive.
Currently, Gaitana is working on songs for her newest album, which will see her collaborating with world renown American sound producers and musicians Narada Michael Walden, Rob Hoffman, Chuck Cymone, Erik Daniels, Robert Damper, and others. Some songs off the upcoming album have already been recorded in San Francisco, Seattle and Los Angeles and very soon, Ukraine's best-kept secret won't be a secret anymore.
In 2011 Gaitana became a fan of the Shakhtar (Coal Miner) soccer club from Donetsk, Ukraine and now she is often participating in major concerts dedicated to the club's victories. Just recently she congratulated the team on its 75th anniversary and presented an energetic song under the title of "Shakhtar is the Champion!" as her gift to the favorite club.
This year was full of social projects, in which Gaitana actively participated. Together with children's pop-vocal band «Zabava» Gaitana hold celebratory event «Easter egg – a symbol of Peace», supported the Elena Pinchuk ANTIAIDS Foundation and Euro 2012 project "Let's be volunteers!". At Independence Day of Ukraine Gaitana presented her new song "Ukraine! Budmo!", which became a hymn of the project " Let's do it together", launched by the State Service for Youth and Sport in cooperation with the United Nations office in Ukraine, the UN Children`s Fund (UNICEF).
The singer also participated in charitable auction "Maisternja Uspihu", organized by "Klitschko Brothers Fund" and wrote a song "Ty champion" (You're the champion).
Within Annual Charitable American Independence Day Picnic, organized by American Chamber of Commerce in 2011 Gaitana was officially named as Friend of Euro 2012. And as a real Friend of Euro Gaitana presented her hymn, devoted to the football championship. Music video to the song "Viva Europe!", which will the greatest video symbol of Euro 2012, is going to be shot till the end of the year. Gaitana and 20 official "little" Friends of championship will record this song.
Gaitana promoted and continues assisting development of child creativity, supported kids with her performances, advice and cordiality of children's creativity. In the spring 2012 Gaitana will surprise her little fans with new album "Kukabarra – Champion!" and is going to publish book - collection of children's songs with notes.
In the spring 2011 Gaitana solemnly opened the main stadium of Ukraine NSK "Olympic" with the song "Stozhary", congratulated Inter Channel with anniversary, by singing her inflammatory composition "Ukraine! Budmo!". She recorded Euro 2012 hymn "Viva Europe" together with little friends.
On October, 27th National social campaign "Red Card" started within Euro 2012 Social project "Let's do it Together", aimed to say "NO" to inequality, violence in family, indifference to HIV infected and risky relationship. Gaitana, who is a singer, composer and official Friend of Euro 2012, within this campaign raised "Red Card" against violence and cruelty.
Also, Gaitana as Euro 2012 Friend has gotten personal T-shirt of Ukrainian football team. The artist was granted with a team uniform as player with number 1 on the back of her T-shirt. On November, 11th Gaitana, who is a guest of honour, official Friend of Euro 2012, owner of personal T-shirt of Ukrainian football team welcomed first guests from Germany with her song "Ukraine – Budmo!", who came to participate in friendly match Ukraine v Germany. Organizers invited the singer to perform this song, because it provokes so many positive emotions with its lyrics.
At the end of autumn 2011 Gaitana presented remix version of her song "Nebo" (The sky) and English version of music video «Shakhtar the champion!».
Gaitana officially became Goodwill Ambassador. On November, 9th, ceremonial signing of collaboration agreement within Euro 2012 National project "Let's do it together!" (Fair Play component) among the State Service for Youth and Sports of Ukraine, Deutsche Gesellschaft für Internationale Zusammenarbeit (GIZ) GmbH and famous Ukrainian singer was held.
At the end of 2011 Gaitana presented romantic song and music video "Samyj luchshyj". This composition became very popular among beloved. In December the artist released collection of the best ballades "Samyj luchshyj".
In February 2012 took place a huge premiere of the song "My Everything" performed by Gaitana together with Karl Frierson - the soloist of a well-known German band De Phazz.
In May 2012 Gaitana has represented Ukraine at international song contest "Eurovision 2012" that took place in Baku, the capital of Azerbaijan. With her thrilling song "Be my guest" Ukrainian diva has invited the whole Europe to mutual friendship. Dedicated to international song contest was the new English language album with the same name "Be my guest" on the creation of which were working the best sound producers and musicians – Narada Michel Walden (Jeff Beck, Whitney Houston, Mariah Carey), Eric Daniels (Mariah Carey, Janet Jackson), Rob Hoffman (Christina Aguilera), Robert Damper (Kenny G).
The album was being recorded in San-Francisco, Seattle, Los Angeles and Kyiv. New digital album "Viva, Europe!" has been presented specially for "Euro 2012" football championship and Summer Olympics in London. The most popular in Ukraine and Europe social and sport songs as well new summer hits were included to the album.
On October 18 the musical Internet channel ELLO presented Gaitana's clip of the song «My everything». The composition was used as a soundtrack for the film «Feathered dreams».
For the first time the composition «My everything»sounded in the framework of «YUNA» music award. Gaitana performed it in a duet with the famous German singer soloist of the De-Phazz group Karl Frierson.
The clip was directed by Kadim Tarasov («ChupaCabra» company). Gaitana appeared before the audience in a new heartwarming image: a piano, a deep red dress and white threads which can be bond into one or broken forever. Gaitanas' image reflects dynamics of the «Feathered dreams» story.
On November 24 the Children's fund UNISEF celebrated its Birthday. In the framework of the event FILM.UA and Signal Red presented a new social video about the activity of the UNISEF. The video was voiced by the Ukrainian singer and composer Gaitana, who also became a music author for this social project.
On December,4the premier show of Gaitana's video clip «Ya dyshu toboi» and presentation of her new dance album – «Samyi luchshyi - DANCE» were held in the cinema «Ukraine».
The video shooting «Ya dyshu toboi» took place in the Emirate of Ras Al Khaimah. The clip was directed by Semen Gorov. The heartwarming love story is full of extraordinary episodes of oriental fairy tale.
Within the framework of the event Gaitana presented her new dance album «Samyi luchshyi - DANCE» (The best – DANCE). This new collection includes the best dance hits of the singer: "London - the Rains", "The Lonely Bossa", "Hear and Obey", "Only Today" and others and some of her new and bright works: "The Plane," "If" ("Supposing"), "Kazanova" .
On Saint Nicholas Day Gaitana presented her new Children's album «Kukabarra + Каrаоке». The concert and autograph-session for children took place in the book club «Chytay gorod». During the presentation Gaitana performed new children's songs such as «Yalynochka», «Мykolai», «Bazhannya». «Kukabarra + Каrаоке» is a collection of the brightest children songs written by Gaitana for her little friends. There are two CD-disks. One of them contains new and also famous children songs, which Gaitana performed together with the most talented children of Ukraine. All minus-versions of songs gathered together in one karaoke-disk will be an exclusive present for all the owners of the «Кuкаbаrrа» Album.